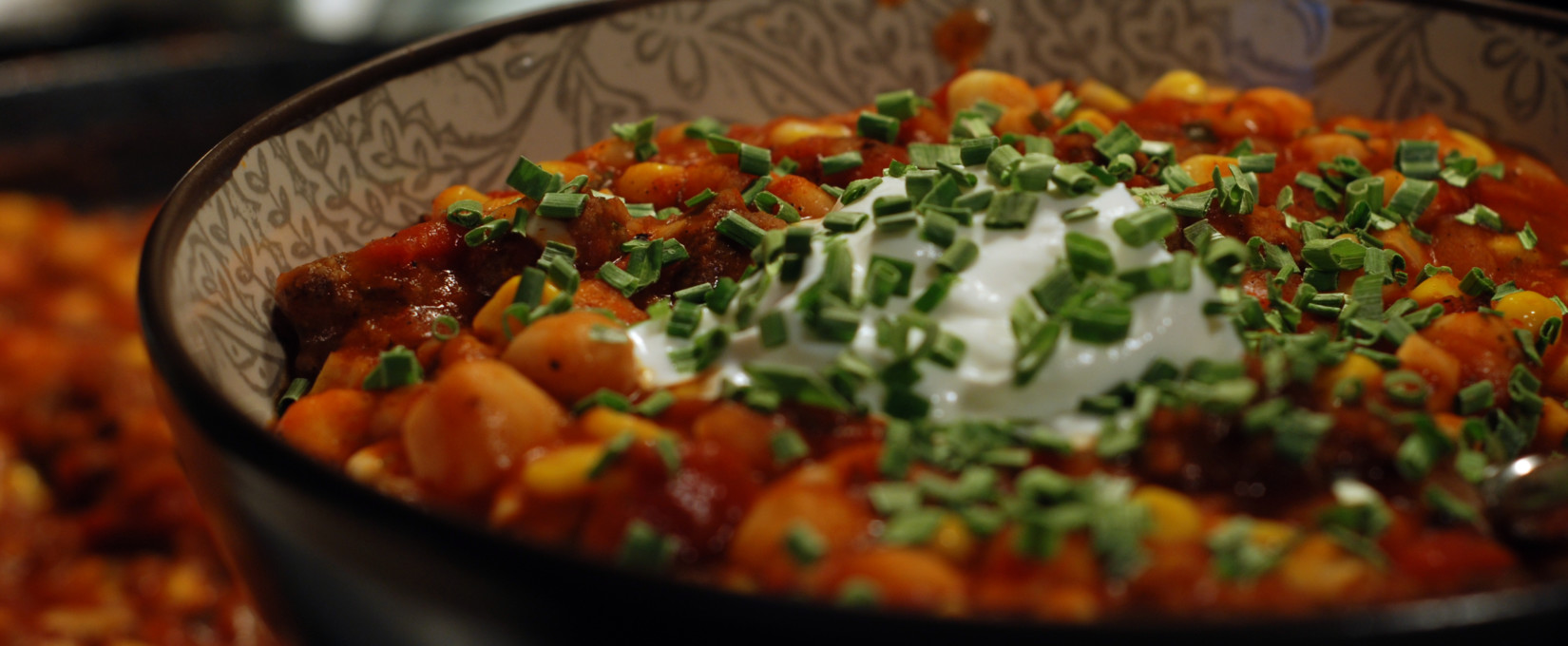 This chili is made with local beef, corn, and black beans all sourced from Iowa farmers and sold at our creamery store. It is local cooking at its finest! An easy comfort food meal, Dan and Debbie's chili is sure to please everyone at your Superbowl party and those gathered at your dinner table. Looking for an extra kick? Top your bowl with our fresh chipotle cheese curds. Our fine cheese curd toppers or onion and chive cheese curds also make a delicious garnish.
4 Servings – 55 min total time – Gluten Free
Ingredients
From Dan and Debbie's Creamery:
1.5 lbs Sutton Sausage Ltd. ground beef – Newhall, IA
1.5 cups Grimm Family Farm Black Turtle Beans – North English, IA
1.5 cups Iowa Choice Harvest Frozen Golden Sweet Corn – Marshalltown, IA
1/2 cup Dan and Debbie's White Cheddar Cheese Curd Toppers, Onion and Chive Cheese Curds, or spicy Chipotle Cheese Curds, for garnish – Ely, IA
From your local grocery store:
2 Tbsp. extra virgin olive oil
1/2 large yellow onion, diced
2 large cloves garlic, minced
10 Roma tomatoes, diced
2 tsp. Chili powder
1/2 tsp. red pepper flakes
1/2 tsp. smoked paprika
dash of hot sauce
3 green onions, chopped, for garnish
1/2 cup plain Greek yogurt (or sour cream), for garnish
salt and pepper to taste
Directions:
The night before, soak your black beans. In a large pot or bowl combine the black beans with water at a ratio of 10 cups of water per pound of dried beans. Soak overnight.
In a large pot, heat olive oil over medium-high heat
Add onion and garlic and saute until onion is fragrant and caramelized (about 2 minutes). Season with salt and pepper.
Add ground beef and break into chunks with a wooden spoon as it cooks.
Stir in diced tomatoes, chili powder, red pepper flakes, smoked paprika, and hot sauce. If you're sensitive to spicy food, start with half the amount of each seasoning. Then, taste and add more as necessary.
Reduce heat to medium and bring to a simmer.
Add corn and black beans to chili and stir to combine.
Simmer chili for at least 20 minutes (simmer for as long as 30 min to an hour).
Taste and season chili to taste.
Ladle chili into bowls and garnish with cheese curds, a dollop of plain Greek yogurt, and a sprinkle of chopped green onions. Serve and enjoy!
Notes: This chili is spicy! Add spices in small increments and taste as you go if you aren't a spicy food fan.
Posted by Josie Rozum
On January 31, 2018
0 Comments