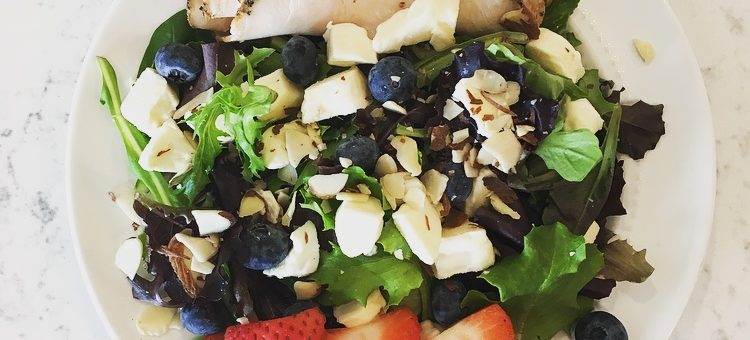 Eating healthy does not have to be boring and it certainly doesn't need to lack flavor. One thing we love about cheese curds is their versatility. Most people thing cheese curds are just enjoyed by themselves, which they certainly can and should be from time to time, but they are also great to use in other things as well. Dan and Debbie's cheese curds come in a variety of different pre-seasoned flavors that pair well with different meals. This is one of our favorite summertime meals – garden fresh, farm fresh salads.  The best thing about salads are that you can have one every single day and never get bored with the same salad – it's all about variety people.
Last night we had some fun adding fruits to a salad. If you haven't enjoyed Dan and Debbie's cheese curds with some fresh or dried fruits your mind is going to be blown. The combination of the two are so amazing, my mouth is watering just talking about it. And talk about easy. This is a snack that every should plan on packing whether it's for their children or themselves – you'll love us for telling you about it.
Alright, so this salad in the picture looks fantastic so here's how we 'threw' it together, and yes just threw it together in under 2-minutes. You just cannot beat that, folks.
Garden fresh, Farm fresh salad: Berry Delicious
Garden greens, spinach, romaine — whatever you prefer!
Fresh blueberries
Fresh strawberries
Sliced almonds
Dan and Debbie's white cheddar cheese curds
Shaved turkey
Vinaigrette dressing
Directions
Put it all together and eat it. It's that simple.
Posted by Josie Rozum
On September 11, 2018
0 Comments