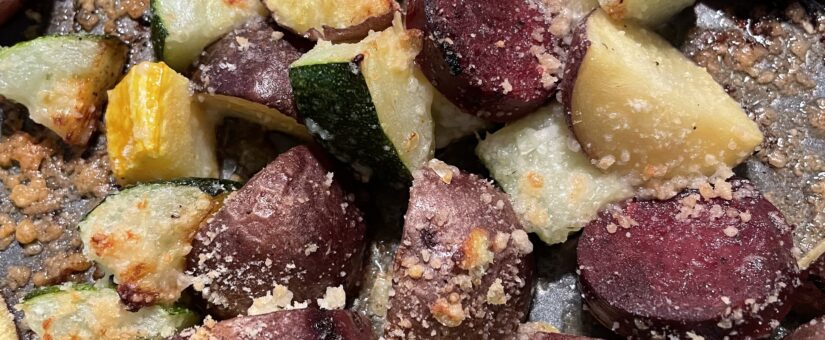 Sheet Pan Ring Bologna & Veggies
This recipe is SO easy, like almost too easy to where I sometimes find myself feeling like I am forgetting something while I'm waiting for it to finish cooking.
Ingredients:
2 Zucchini's cut into 1/2 inch full moon's (available in the Creamery store)
1 t Garlic Salt
1 t Dried Basil
1/2 t Cayenne Pepper
Salt & Pepper to taste
Directions:
Preheat your oven to 450°
Boil your potatoes in salted water for 5-10 minutes until fork tender.
Drain the potatoes.
Place your chopped zucchini, potatoes, and sliced bologna evenly on a baking pan.
Melt the butter and mix in the olive oil, garlic salt, basil, s&p, and cayenne.
Drizzle & evenly spread the mixture over the zucchini, potatoes, and bologna.
Roast for 20 minutes. *I personally like my bologna to be crispy – since it is pre-cooked you can add it 10 minutes into the roasting for softer bologna*
Remove the pan from the oven and sprinkle with parmesan cheese.
Turn on broil and broil on the top rack for 5-10 minutes.
Let cool and ENJOY!
Posted by Dacey Johnson
On September 24, 2021
0 Comments