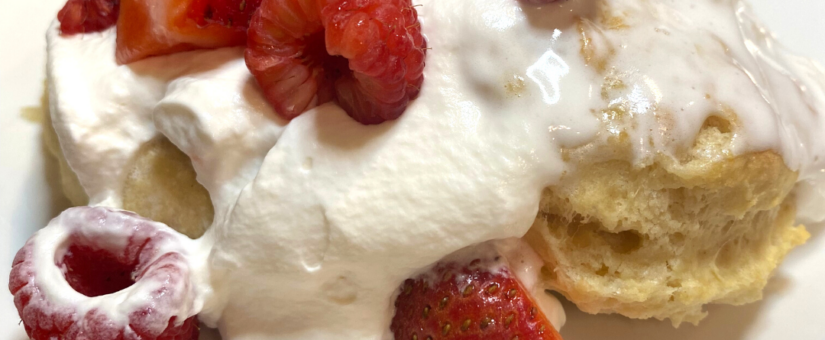 Try out this delightfully light and sweet biscuits and cream recipe using our farm fresh butter, heavy whipping cream, and whole milk! I prefer to enjoy this recipe with fresh strawberries from my garden and raspberries, but you could add any fresh berries or honey on top!
INGREDIENTS
Biscuits
4 cups of flour
2 tablespoons baking powder
1 teaspoon baking soda
3/4 cup Dan & Debbie's Salted Butter – cold, sliced

2 large eggs, beaten

2 tablespoons of sugar
1 1/2 cups buttermilk (1 1/2 cup Dan and Debbie's Whole Milk and 2 teaspoons of white vinegar)
2 tablespoons of olive oil for brushing
Fresh Whipping Cream
1 pint Dan and Debbie's Whipping Cream
Sugar – to taste (I used 1/4 cup)
2 tablespoons of vanilla
DIRECTIONS
Stir in the beaten eggs with a wooden spoon until combined. Stir in 1½ cups buttermilk until the dough comes together into a sticky mass. If it is too dry, add more buttermilk 1 tablespoon at a time, mixing after each addition, until it reaches the correct consistency.

Position a rack in the middle of the oven and preheat the oven to 400°F.

Line a baking sheet with parchment paper.

Scrape the dough onto a floured work surface. Use your floured hands to press it into a round roughly 14 inches across and no more than a 1/2 inch thick.

Use a floured 2 3/4- inch round cutter to cut out about 20 biscuits. If necessary, collect and push out the scraps to cut more biscuits.

Transfer the biscuits to the prepared baking sheet, arranging them so that they all have a small space between each biscuit. Brush the top of each biscuit with oil.

Bake until golden brown, 15 to 20 minutes. Let cool slightly in the pan on a rack.

Pour the pint of whipping cream in a large mixing bowl, and add sugar and vanilla. Whip the cream until peaks stiffen with a hand or stand mixer, usually 1-1 1/2 minutes.
Enjoy the biscuit with whipped cream and berries on top.
Posted by Elizabeth Uthoff
On July 11, 2023
0 Comments