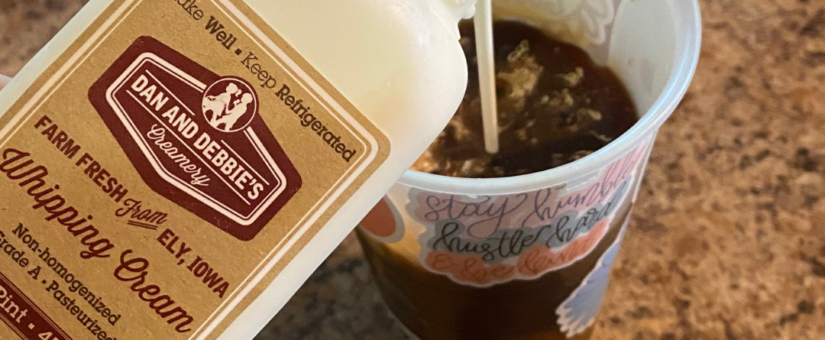 Everybody loves their coffee in the morning. But have you ever considered the amount of sugar in your traditional coffee creamer? 
A traditional coffee creamer like Coffee Mate original coffee creamer has one gram of sugar and 20 calories in every tablespoon. Or a more expensive coffee creamer like Dunkin Extra coffee creamer has six grams of sugar and 35 calories in every tablespoon. And let's be honest we aren't measuring when we are adding creamer to our cup so that quick pour into our mug of coffee in the morning can easily add up!
Not to mention that processed coffee creamers like these often contain ingredients that are less than ideal for your health.
Using a local alternative, like Dan & Debbie's Whipping Cream, instead of a traditional coffee creamer can be a major win for you and your favorite coffee:
Our whipping cream has only the cream from our milk as an ingredient – a one ingredient coffee creamer!
Buying local is always good for the environment, since you are sourcing and supporting the local economy. Our whipping cream only travels three miles from our farm to our creamery.
Our whipping cream has no sugar in it, so you can add it to your morning cup without the added sugars and with more control based on personal preference.
Like whipped cream on top of your coffee? Whip up our whipping cream into fresh whipping cream to top off your morning cup of joe.
And local whipping cream is a great alternative to a traditional coffee creamer because you are getting a fresher option. Farm fresh is always best!
Posted by Elizabeth Uthoff
On July 20, 2023
0 Comments