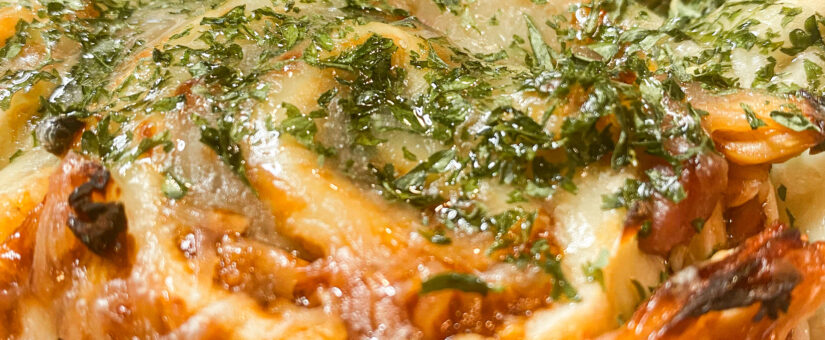 This easy Farmhouse BBQ Chicken Pizza Roll recipe is family friendly, and super customizable to your favorite add-ins! We made it with our creamy Farmhouse Cheddar, but you can try it with any of our aged cheddar cheeses. Use our Garden Cheddar if you want an original pizza roll taste, and for spicy pizza lovers, try it with our Buffalo or Jalapeño Cheddar Cheeses.
INGREDIENTS
1 pound pizza dough fresh, frozen or refrigerated, thawed
½ cup BBQ sauce, plus extra for serving
1 ¼ cups shredded Dan & Debbie's Farmhouse Cheddar
1 cup cooked chicken finely chopped
3 tablespoons red onion finely chopped
3 slices bacon cooked crisp, drained and finely chopped
fresh parsley leaves chopped for garnish
1 teaspoon vegetable oil for greasing the pan
DIRECTIONS
If frozen, follow instructions for thawing your pizza dough. If using refrigerated dough, place in a well oiled bowl, cover and allow to come to room temperature, 1 to 2 hours.
Lightly oil a large 9 or 10-inch round skillet or baking pan. Cast iron skillets work well for pizza. Set aside.
Preheat oven to 400°F. Lightly flour a clean work surface and roll out the room temperature pizza dough to an 18×10-inch rectangle. If the dough springs back and won't hold it's shape, let it rest an additional 5 minutes, then roll again. Spread the BBQ sauce over the surface of the dough leaving a 1/2-inch border all around the edges.
Sprinkle 1 cup of your favorite Dan & Debbie's aged cheddar cheese evenly across the surface of the dough, then top with the cooked chicken, onion, and cooked bacon.
Starting on the long side, roll the dough away from you into a tight cylinder, tucking and pulling just a bit as you go. Pinch the seams together to seal. Cut into 8 equal slices and place cut side down in the prepared pan.
Bake for 25 minutes in a preheated 400°F oven. Sprinkle the remaining cheddar cheese on top and continue baking for another 5 minutes or until the cheese is melted.
Garnish with fresh parsley and serve immediately with additional BBQ sauce for dipping.
Notes
You can substitute pizza sauce for the barbecue sauce, and use your favorite traditional toppings for a more traditional pizza roll taste.
When cutting your pizza rolls, try using dental floss instead of a knife. It works amazingly well!
Since these bake quickly you'll need to pre-cook or sauté hearty vegetables before adding to the rolls. Vegetables like peppers and mushrooms need to be cooked first too. Finely minced onion is fine added raw.
Pre-cook all meats used in the pizza rolls.
Posted by Elizabeth Uthoff
On August 1, 2023
0 Comments