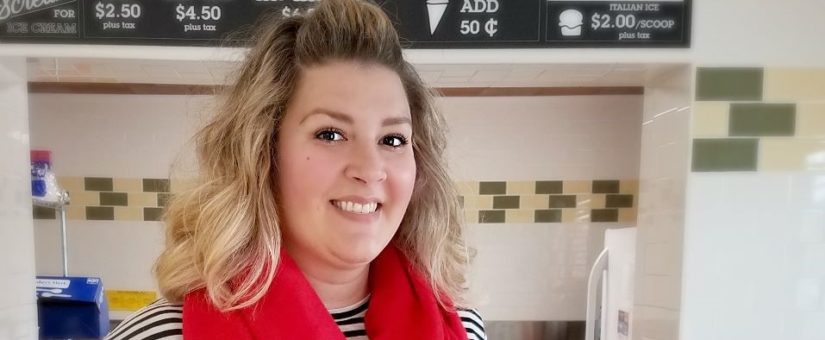 Bridgette Banda, although not related by blood, she feels like family. Having moved to Ely, Iowa from Colorado in July 2016, she expressed interest in joining our creamery team. After meeting her it was clear to see how perfect she was to be a part of our 'family' at the creamery. She puts a smile on everyone's face and brings such a positive light to challenging days. Bridgette's primary role at the creamery is working in our store. If you stop in for a cone or to grab a gallon of milk you will almost always see Bridgette waiting for you with a big smile. Having Bridgette to help push forward our mission at the creamery is something we don't take for granted. Meet Bridgette, all!
What has your experience been working at Dan and Debbie's Creamery?
I do a little bit of everything. My focus is managing the retail experience. I try to keep the store looking good, and keep the customers who come to the store happy. It's my goal to make people feel welcome from the moment they walk in the door and make sure they leave feeling like they had a great experience with us.
What is your favorite farm-fresh dairy product made at the Creamery?
I have learned a lot in just a short time. I knew the creamery was unique, but it wasn't until I started working here that I learned how special we really are. Dan and Debbie are able to control every single part of this operation and that's very rare. Between feeding the cows, bookkeeping, making the products, doing deliveries – it's all done by our creamery family. Most of all, I think I've learned how important it is to have community support. Everything we do at the creamery, its success depends on the community and our advocates.
What did you do before coming to Ely?
Prior to working at the creamery, I managed a jazz club in Denver, CO. There, I was the front of house gal, responsible for welcoming guests. I also did a variety of different jobs from managing staff, making schedules, bartending, you name it!
Although I spent the last decade in Colorado, my roots are here in Iowa. The world is small and my father, Michael Bee, is a retired cheesemaker from Swiss Valley. He has been making cheese since he was 18 years old. When the Takes family were close to their first day of production, they connected with him. He came to the creamery and showed the team here how to make the best white cheddar cheese curds. Throughout his time at Swiss Valley and after he retired he never stopped learning. He even went to Germany to learn more from the best cheese makers in the world. He knows everything there is to know about cheese.
What is your favorite part of your role at the Creamery?
First of all, I love the people that I work with. It's great showing up for work knowing everyone is doing the best they can that day. We give everything we have each day because we truly want to be here. I also enjoy the customers; I have my regulars and I love having their favorite ice cream scooped up as they walk through the door!
It makes such a difference that my ideas and input are heard here. There is so much potential here and we usually have more ideas than we can execute at one time, and that is exciting. I look forward to showing up for work and it is never boring. And of course, the cheese curds are a great perk!
Which dairy product made here at the Creamery do you prefer?
I have to say cheese curds! I grew up eating cheese curds all the time. My favorite is the original White Cheddar, but the Onion and Chive flavor are close behind. Although, if we start making a ranch flavor my favorite may change!
The Creamery has partnered with over 50 local farmers, artisans, chefs, and businesses to stock Iowa-made products on its shelves – which is your favorite?
I love the Monastery Caramels. My grandma used to buy them for me when I was a kid. I used to have to stop myself from eating them all in one sitting. The chocolate caramels are the best.
I also like Cheryl's Queso and the Cedar Ridge wines.
The Creamery opened in July 2016 – how do you see it changing in the future?
I see us growing in so many ways! Obviously, making more products like butter, drinkable yogurt, and more flavors of milk in addition to the current chocolate and mocha milk. I am most excited about root beer milk! I would also like to see us partner with more local vendors to add fresh food to our shelves. In the immediate future, we can establish ourselves as a mainstay it the Cedar Rapids downtown farmers market.
It would be great to use 100% of that milk to make a variety of dairy products. Right now we are only using about 20% of the milk from Dan and Debbie's farm to make dairy products here at the Creamery and the rest goes to Wapsie Valley Creamery in Independence, IA. In the long term, we could expand our reach to get our products into all of the grocery stores, restaurants and specialty shops in our area.
I could see our building being a hub for the community to host events. Using the Creamery for birthdays, anniversaries, and a comfortable spot to commune over a cup of coffee. Then my dream upon a dream is to serve grilled cheese sandwiches made with our own cheese and other local ingredients!
Posted by Josie Rozum
On December 14, 2017
0 Comments