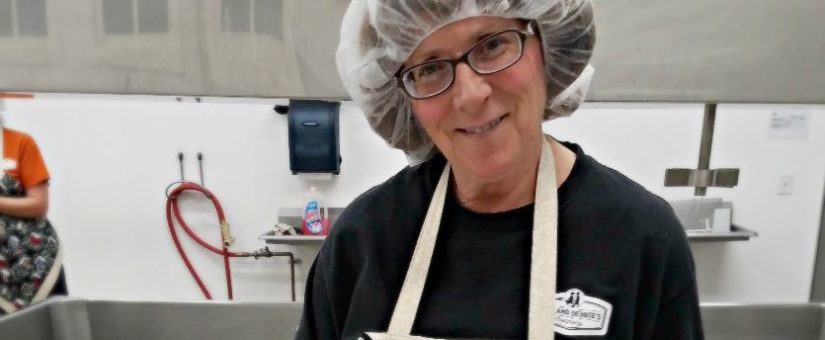 Joan Backes, or Joanie as we call her, is one of our three ice cream makers here at the creamery. In addition to that, Joanie also makes sure that we have all of the ingredients we need to make each flavor, and ensures that we have enough of each flavor in stock. Joanie joined our team only a few weeks after her retirement from St. Luke's hospital in November 2016. Before she began working at the creamery, Joanie had been a long-time family friend of Dan's mom and dad, Arlene and Earl, to whom she expressed interest in working part-time after her retirement. It didn't take long for us to realize how valuable Joanie is to our creamery family and we are incredibly lucky to have her on our team. 
When did your role at the creamery begin?
I have been working here just over one year. I retired from my job in the operating room at St. Luke's on November 11, 2016, then I started working here just days later. Originally, we had planned my first day in January, but the creamery was growing so quickly that they really needed the extra help making ice cream as soon as possible.
I heard about the Takes family starting their creamery business from Earl, Dan's dad. They spent three years renovating this building from a lumber yard to a creamery and you can see the hard work that went into it. When I saw the building for the first time at Earl's birthday party I thought it looked like a fun place to work part-time, and I knew I wanted something to do in my retirement.
What have you learned during your first year here?
I have learned about running a small business and how much work and heart it takes to keep a business up and running. I learned the process of how fresh milk from their family farm is bottled and made into cheese curds and ice cream. And I've learned the importance of community support and encouraging people to help spread the word about your product to the community. Well, of course, I learned how to make handcrafted ice cream – which is a fun job!
What is your favorite part of working at the creamery?
I like making ice cream the most. I help with other things here like packaging cheese curds, putting labels on milk cartons, and keeping track of inventory, but I really enjoy the 4-5 hours we are running the machine and packaging the ice cream. The time goes by quickly and we have fun doing it.
My top favorite flavor of ice cream we've made so far is Purple Cow Pie. That was our flavor of the month in September and it was actually one we discovered by accident while making a different flavor!
Another great part is the people who work here. When I first started here, I only knew Earl and Arlene Takes. I've gotten to know everyone now, and they're all friendly and easygoing – very low stress and hardworking. If something happens they just handle it.
How have you seen the Creamery grow in the past year, and how do you see it changing in the future?
Dan and Debbie's Creamery has grown so much in the last year. Each week, we are making more ice cream, cheese curds, and bottling more milk. That said, there is still room for more growth. There are still a lot of people who don't know about this place, and the more people who find out about it the more business we will have. I think we will continue to grow by making a variety of new and different products.
Posted by Josie Rozum
On January 7, 2018
0 Comments