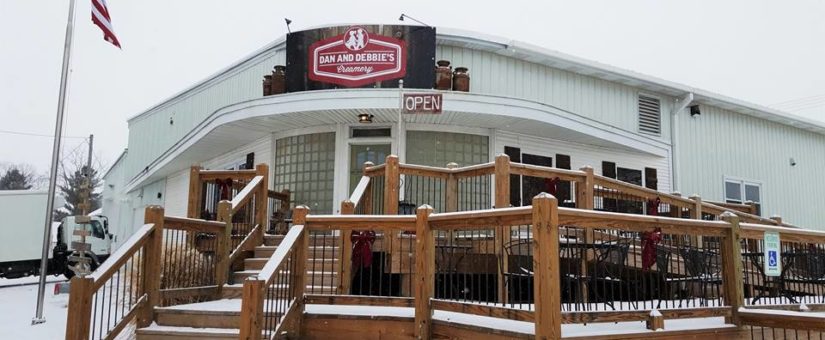 It's that time of year when we reflect on what the past 365 days have brought us, what they have taught us and all those things that make us grateful for starting the creamery. 
We are so humbled by the support of our customers who continue to stay loyal to us and who help spread the word that we are here. Each customer who walks through our creamery doors; each restaurant and grocery store who decides to carry our products mean so much to us and we are forever thankful for them.
At the creamery, this was a year with many blessings among several challenges. It was only six months ago that we celebrated one-year of being open, still each day we learn something new and learning new things doesn't come without adversity.
One of our biggest blessings this year is getting together a team of hardworking individuals who have made the creamery what it is today.
Our son, Dustin who works full-time as a fireman on the Cedar Rapids Fire Department also oversees all production in our make room on his days off. He and Brian, our nephew are to thank for bringing you those great dairy products each week. Dustin's wife Chelsea, makes sure our creamery store is filled with the best Iowa products around. While, Joanie and Sue work hard making all of your favorite ice cream flavors, and they have been busy this year. Our youngest son, Riley continues working towards his business degree at the University of Iowa while being our distribution coordinator making sure that all deliveries are made to our restaurants, cafes, coffee shops and grocery stores every week. Abbie, a second cousin to our family has been instrumental in working alongside our daughter Josie on marketing efforts, as Josie has a bigger role on the operations side of the creamery and farm. Bridgette joined our team in the midst of ice cream' season [in July] and hit the ground running keeping everything in our creamery store in motion; of course, with the help of our awesome store team including  Kennedy, Kenzie, Olivia, Jeannie, and Sydney. 
We are blessed to be able to continue to work each day with our wonderful herd of Holstein cows, alongside another son, Tyler, who is dedicated to making sure all cows, of all ages, are fed.
And of course, we need to mention our two grandbabies Maeve and Kane who manage to keep us smiling through the good and the bad.
It's amazing what our team has been able to accomplish this past year. We cannot help but feel extremely excited for what 2018 will bring for us!
We wish you all a very happy holiday and a blessed new year.
Stay warm,
Dan and Debbie Takes
Posted by Josie Rozum
On December 31, 2017
0 Comments