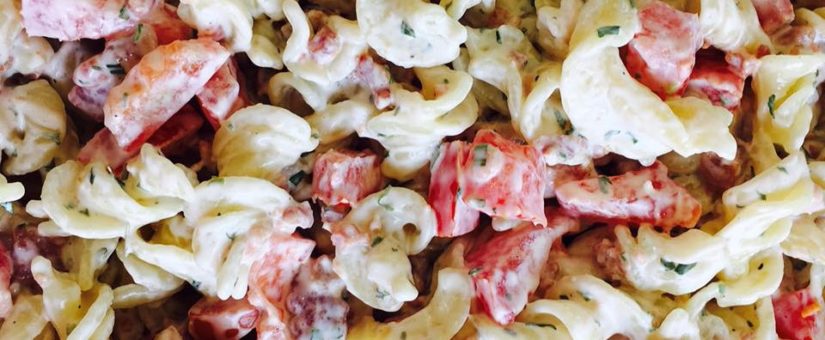 Spring finally feels like it's here to stay! What better way to celebrate than with fresh, seasonal food? Using these three spring recipes, you can make a balanced meal (with dessert!) using locally sourced products from our creamery store like Antler Ridge elk strip steak, Denison Mustard, local honey, Pasta of the Prairie, and our own farm-fresh cream.
This recipe from bon appetit can be modified to use local Antler Ridge Elk strip steak raised right here in Ely, Iowa. If you've never had elk, a this is a great recipe to try. The taste of elk is similar to beef and can be substituted for beef in most recipes. Elk has great flavor, and farm-raised elk like that of Antler Ridge Ranch, doesn't have that same "gamey" taste. Of course, you can use locally-grown produce in the dish as well!
Following this recipe, you can substitute the spicy mustard for any of the six brown mustard flavors made by Denison Mustard in Dows City, Iowa. For the honey called for in this recipe, you can use local Erenberger honey from Solon, Iowa or Randol honey from Winterset, Iowa. Infuse extra flavor into your dish by using Pickle Creek herb infused olive oil made in Fairfeild, Iowa instead of plain oil.
The beauty of this recipe is that it's more of a non-recipe – all you need to assemble the perfect pasta salad comes with the Pasta of the Prairie pasta salad kit made in Marion, Iowa. Featured here is the bacon ranch pasta salad, but you can also find a Mediterranean pasta salad kit and fiesta pasta salad kit at our creamery store. The easy instructions are printed on the back of the package. Spend more time in the sunshine and less time in the kitchen while enjoying the simplicity of this locally-made side dish!
Use our farm-fresh cream in this recipe for strawberry basil shortcakes from bon appetit. A fresh twist on the classic strawberry shortcake, and oh-so-creamy when made with Dan and Debbie's cream. Make your evening easier by preparing the shortbread ahead of time. Looking for extra local bonus points? Make this using fresh picked strawberries. Yum!
Posted by Josie Rozum
On April 20, 2018
0 Comments