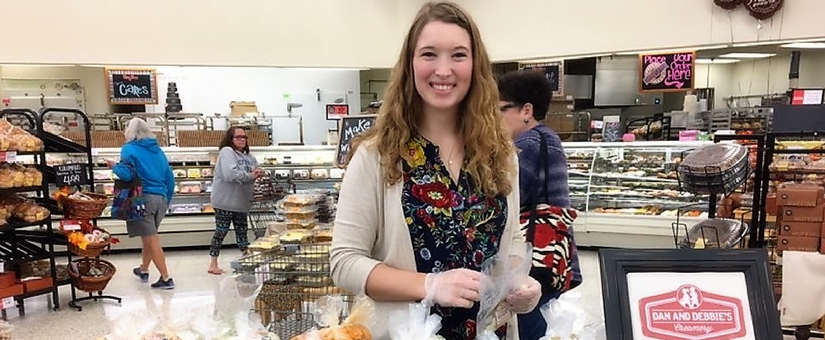 Abigail Takes came to work at Dan and Debbie's Creamery because of her education and experience in public relations and marketing. As the first individual hired specifically for marketing and promotions at the creamery, she has taken on that task and more. You may see Abbie at the creamery working on her computer, at the front of the store helping customers, or sometimes down in the make room helping bag fresh cheese curds. If you shop at Hy-Vee or New Pioneer Co-op in the Cedar Rapids or Iowa City area, you may see her sampling our farm-fresh dairy products carried regularly by those stores and talking to patrons about the creamery's story. Next time you see her, be sure to stop and say hello!
Read more about Abbie…
What do you do at the creamery? For how long?:
I started working at the creamery in June 2017 shortly after graduating from the University of Northern Iowa (UNI) with a degree in Public Relations. It's kind of a funny story about how I came to work at the creamery. Being a distant relative of the Takes family, I wanted to meet with Josie to learn more about her experience in the public relations and marketing industry. After a few coffee chats, Josie proposed an idea of coming to work at the creamery. She was doing all of the marketing, sales, operations, finances and managing the store on her own, and was looking for someone to take on some of those responsibilities.
What have you learned during your time here?
I've learned a lot about small business. Here, we are a small team and although my focus is marketing and public relations I've taken on responsibilities in many other areas. It's amazing how much we can get done as a small team when the members are dedicated, and that's what has made our creamery successful.
I've also learned how important it is to be connected to our local community and to believe in the product you are producing for its members. While we do produce the best locally-made, all-natural dairy products around, we wouldn't thrive without the buy-in and support from community members.
What did you do before working here?
My very first job was working at the Edgewood Road Hy-Vee in the Health Market throughout high school where I first learned the value of excellent customer service. When I graduated, I went on to get my Bachelors Degree in Public Relations and Marketing at UNI. During my time in Cedar Falls, I had several jobs, two internships, and volunteer experiences. I worked at UNI catering, took an internship at Sunnyside Country Club doing marketing and helping with events, and then later worked for St. Johns Lutheran Church doing marketing and social media. I loved being involved in many different school organizations. I helped raise money for Dance Marathon as a member of the Public Relations Committee, served on the leadership board for PRSSA (Public Relations Student Society of America), and had the pleasure of studying abroad for a semester in Australia, among many other things!
What is your favorite part about what you do/your role?
I love the variety that I get to be a part of each day. I like that I'm able to do different things to help grow the creamery. From managing social media and updating our website, to spending time with our customers at our creamery and at samplings, to helping down in the make room bagging cheese curds. It's fun to have your hand in a little bit of everything.
What is your favorite dairy product and/or flavor we make at the creamery? Why?
I love the milk. Before working here I had never had cream top milk and I didn't know milk could taste this good. For cheese curds, my favorite is the chipotle cheese curds especially when they are extra spicy. I fell in love with the salted caramel ice cream when I first started, but now I find myself loving each limited edition flavor they roll out. Why can't we just keep all of the flavors all of the time? Kidding.
What is your favorite local product sold on our shelves?
I love Pavelka's point meats. Just the other night I made a Zuppa Soup with bacon and Italian sausage from Pavelka's Point Meats, whipping cream from the creamery, and then we baked a loaf of Italian Herb and Cheese Bread Mix from Wildwood Farms. It was all so good!
How do you see the creamery growing in the future? What part does your role play in that?
I see the creamery growing in many different ways. I can see us expanding with new products like butter, drinkable yogurt, different flavors of milk, ice cream cakes, etc. From a creamery store perspective, I can see us growing our local vendors to offer an even greater variety of Iowa made products. Wholesale wise, I think we have a great amount of growing to do because grocery stores and restaurants are catching onto the concept of sourcing local more and more.
I think that the biggest part that I can play in any growth is my role in social media and sales. Being able to get out there and share our story to grow our customer base. Anytime I can make a meaningful connection with potential customers or wholesale buyers who have never heard about us is going to help us.
Overall, I've learned a lot and grown both personally and professionally from my first year here at the creamery, and I'm grateful for the opportunity to be a part of the team!
Posted by Josie Rozum
On May 8, 2018
0 Comments