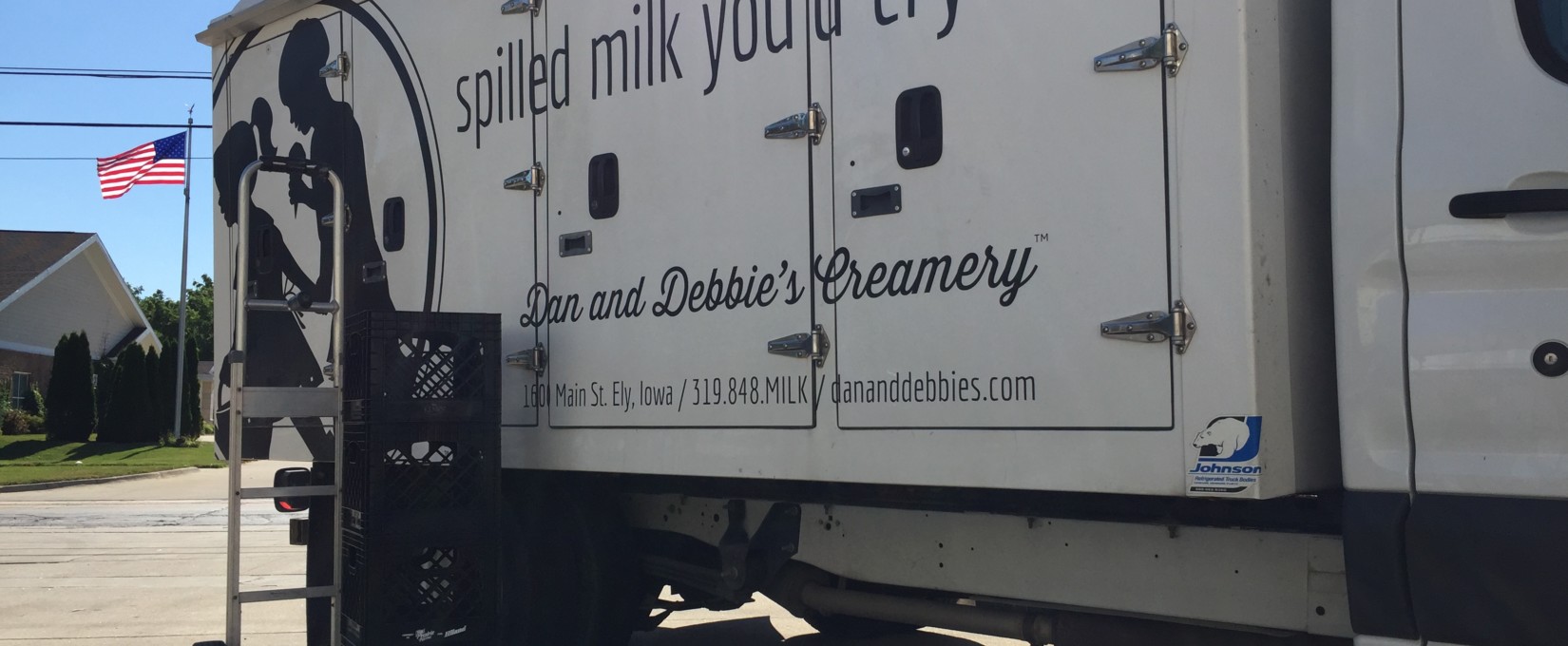 Love visiting our creamery store to try all of our dairy products? Did you know that you can also find many of our dairy products at local grocery stores, restaurants, and coffee shops? We deliver our milk, cheese curds, aged cheddars, and ice cream twice a week to our partnered retailers to provide a farm to table experience for more consumers in our area. On Mondays and Friday's Riley and Gary (aka "Buey") load up our refrigerated delivery truck up to hit the road and deliver to partners in the Cedar Rapids, Iowa City, Coralville, Hiawatha, Robins, Swisher, Shueyville, and Amana area. 
We have been partnering with local businesses and delivering our dairy products since we started the creamery, 3 years ago. When we first started we had only had 3 stops, now we visit over 45-50 local grocery stores, restaurants and coffee shops each day. Early on, we learned that the difficulties that came along with deliveries: every stop is different and each partner has varying needs. For example, even if two grocery stores share the same name and brand, they are not set up the same way. When we pull into a new store or location we have to remember the specifics for that stop: where to enter and where to place our products, and who needs to sign for the delivery.
"In some larger grocery stores, dairy products are broken up," states Riley. "The milk will be in one corner of the store, while cheese is in the deli, and our ice cream goes in the freezer section." But now after a few years of delivering twice a week, all of this information becomes old hat and delivering becomes an easier task. So much so that Riley is able to make a stop in 10 minutes or less; making sure he pauses to remind our wholesale partners that we are very grateful for their order.
In between stops, while we are on the road headed to the next destination, we are paying attention to the refrigeration of the truck. The refrigeration and freezer sections of the truck need to stay at a certain temperature. To accommodate this temperature, the truck will remain running the entire day of delivering. And even though a delivery day can last up to 6 hours, we have our route created an efficient route where we are saving time and fuel.
So the next time you are driving around on a Monday or Friday, keep an eye out for us in our delivery truck!
If you'd like to see if your local coffee shop or grocery store carries Dan and Debbie's, check out our Where to Buy page.
Watch our delivery process!
Posted by Elizabeth Uthoff
On August 6, 2019
0 Comments