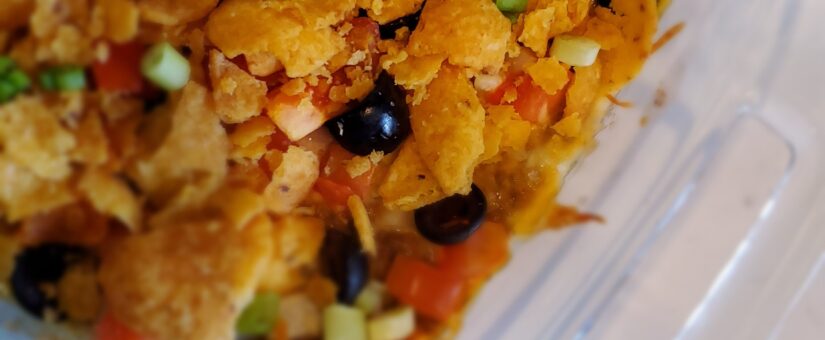 Taco Casserole
What I love about this recipe is that it can be made, baked, served, and it reheats great. When I make this Taco Casserole I usually do a double batch serving one pan the day I make it and then the other pan 2 days later.
Now for the how-to, this recipe is all about layering. Using the list below, layer items in a 9 x 13″ pan.
Refried Beans
Country View Dairy's Sour Cream – avoid using light sour cream as this can cause it to curdle and separate.
Takes Family Farms Ground Beef, browned with diced onions
Dan and Debbie's Farmhouse Cheddar Cheese, shredded (Jalapeno if you prefer something with a kick)
    Note: before you add the next three items, you will need to bake until the cheese is nice and melted. 350 degrees for about 15 minutes.
Black Olives, sliced
Tomatoes, diced
Crunchy Toppings (ie: Tortilla Chips, Doritos, and/or Fritos.)
Directions:
Let the sour cream come to room temperature while you prepare the meat. This will prevent it from curdling when baked as it won't be going from cold to hot right away.
Cook/crumble the ground beef and onions in a pan over medium-high heat.
Drain excess grease, add water and taco seasoning. Bring to a boil, reduce to a simmer for 5 minutes, then remove from heat.
Spread the refried beans in an even layer over a 9 x 13″ casserole dish. Top with sour cream.
Add the seasoned ground beef and onions on top.
Top with cheese. Bake uncovered at 350°F  for 15 minutes, until the cheese is hot and melted.
Add the black olives and crunchy toppings. Bake uncovered for 8 minutes.
Garnish with green onions, diced tomatoes, and/or shredded lettuce if desired and serve

.
Posted by Dacey Johnson
On June 25, 2021
0 Comments