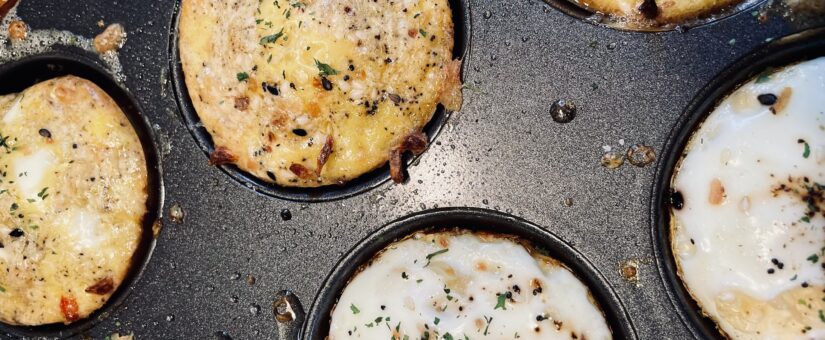 Cheesy Egg Cups
Prep-able Breakfast is my saving grace. I usually make these on Sundays and then each morning throughout the week I can pop one or two in the microwave for a quick reheat & eat! What I love is you can change the way you cook your egg, and you can change out the veggies you add in or skip the veggies altogether if you've got a picky eater on your hands!
Ingredients:
6T Melted Butter  – I add garlic salt, cayenne pepper, and random seasonings to it but that is optional!
1 28oz Bag Frozen Hash Browns Thawed
1 Cup of Chopped Veggies (For this I used red peppers, tomato, sliced jalapeno, onion, and garlic but 1 cup TOTAL) optional*
Salt & Pepper
1 T Whipping Cream (IF scrambling your eggs)
Directions:
Start thawing your Hash Browns

Preheat the oven to 400°F. Brush your muffin tin with a little bit of your melted butter.

In a medium bowl, combine the hash browns, shredded cheddar cheese, veggies, and melted butter.

Divide the hash brown mixture among the 12 muffin cups – They will look as if they're overflowing but will shrink over the cooking time.

Bake the hash brown cups for 25 minutes.

Remove them from the oven and with a Tablespoon push a hole into the middle of each cup.

Crack an egg into each cup then top each egg with salt and pepper.

OR In a separate bowl mix your eggs with your whipping cream and scramble well – divide the eggs evenly among the cups.

I often will do half and half.

Sprinkle the tops with salt & pepper.

Return the hash brown cups to the oven and bake them for an additional 12 to 15 minutes or until the eggs are as done as you like them.

When you remove the pan from the oven allow to cool for 8-10 minutes.

Pop the egg cups out of the pan and sprinkle with parsley and extra cheese if desired 😉 ENJOY!
Posted by Dacey Johnson
On October 22, 2021
0 Comments