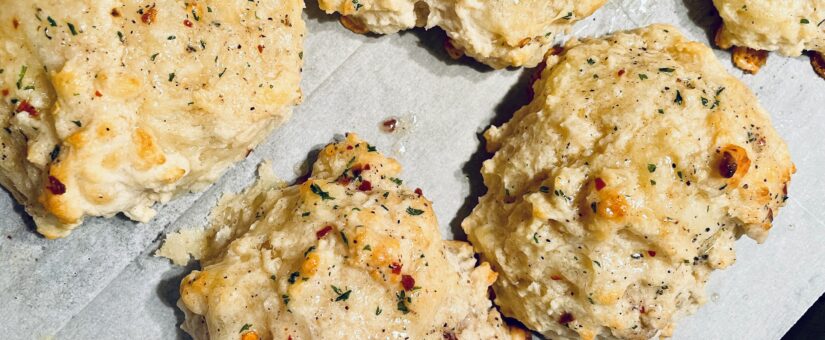 Farmhouse Cheddar Biscuits
These biscuits are perfectly cheesy, garlicky, and yummy! Served warm they're like pillows of mouthwatering deliciousness. What I love is that I always have all of these ingredients on hand at home for whenever I last minute decide that I want a warm pillow of cheese!
Ingredients:
1 T granulated sugar
1 T baking powder
1 T garlic powder
1 ½ t salt, divided
1 teaspoon dried parsley
Sprinkle of Chili Flakes (Optional)
Directions:
Preheat oven to 425oF. Prepare a baking sheet with a silicone baking mat or parchment paper.
In a medium microwave-safe bowl, heat ½ cup butter until melted, about 45 seconds. Set aside to cool.
In a large mixing bowl, mix the flour, sugar, baking powder, garlic powder and 1 teaspoon salt.
Pour the milk and the melted butter over the dry mixture and stir until just combined, making sure not to overmix. Fold in shredded cheese.
Drop large spoonfuls onto the prepared baking sheet, making about ten biscuits.
Bake for 10-12 minutes until biscuits are golden brown.
While biscuits are baking, melt the remaining butter in a small bowl. Add and mix parsley, chili flakes if desired, and remaining ½ teaspoon salt.
When biscuits are removed from the oven, immediately and generously brush with the butter mixture. ENJOY!
Posted by Dacey Johnson
On October 15, 2021
0 Comments