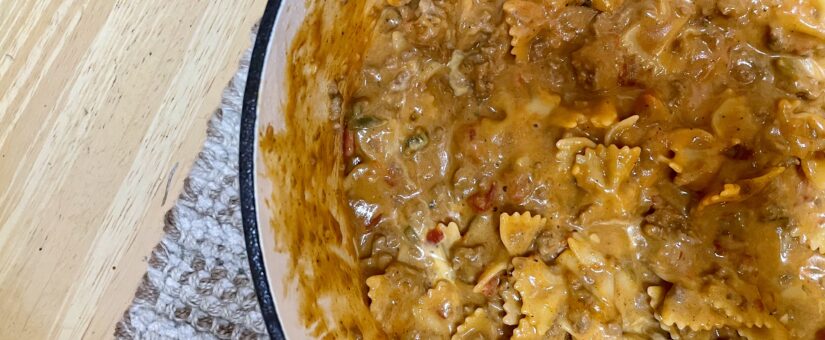 Cheesy Taco Pasta
Three of my favorite things piled into one dish. You can't beat Cheese, Tacos, and Pasta!
Ingredients:
2 cups shredded Farmhouse Cheddar – Jalapeno Cheddar if you like more spice
4 oz. Velveeta cheese
1/2 a Yellow Onion Diced
Minced Garlic
2T Butter (or more if you desire, we won't judge)
1 oz Taco Seasoning (ROXY TACO is sold in-store)
2T Tomato Paste
2 cups broth of your choice
1.5 T Worcestershire Sauce
1 can Rotel Tomoatos with chilis
Diced Jalapeno's IF you want to spice it up.
1 pound box of noodles of your choice – I like shells and bowties the best for this!
Directions:
In a medium-large pot add a drizzle of oil and your onion, cook until translucent (2-3minutes) add your ground beef & salt, and pepper, and begin browning and crumbling your ground beef.
In the same pot add your butter and garlic, and cook until fragrant.
Add the taco seasoning, worcestershire, broth, tomato paste, milk, rotel, and salt and pepper to the pot stirring to combine. (if you want spice add your jalapenos here too)
Once your contents are boiling slightly add the pasta and cook to al dente stirring occasionally so nothing sticks to the bottom of your pan.
When your noodles are cooked through turn down your heat and slowly stir in all of your cheese until mixed throughout.
Serve up a bowl full and top with a dollop of sour cream and ENJOY!
Posted by Dacey Johnson
On April 1, 2022
0 Comments