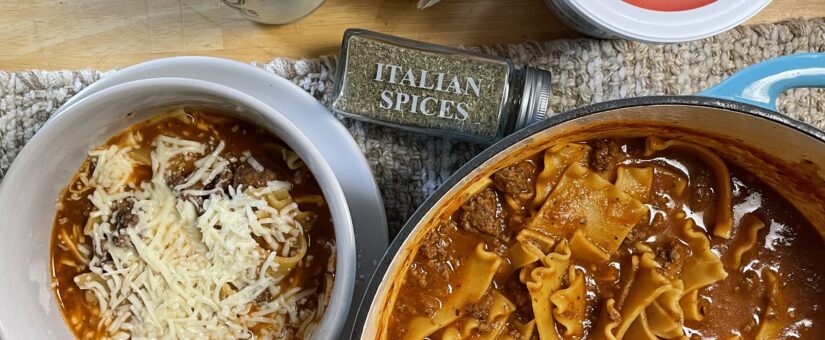 One Pan Lasagna Soup
The easiest one pot soup to ever exist!
Ingredients:
1/2 a Yellow Onion Diced
Minced Garlic
2t Garlic Salt
Italian Seasoning
Salt & Pepper
1T Butter (or more if you desire, we won't judge)
32oz of the broth of your choice
1 box of lasagna noodles broken into pieces
Shredded Farmhouse Cheddar
Directions:
In a medium-large pot add a drizzle of oil and add your onion and minced garlic and cook until fragrant.
Add the ground beef, salt & pepper, butter, and seasonings to the mixture and cook until browned all the way through.
To the same pot, add your jar of pasta sauce and your broth, stirring and  bringing to a slight boil.
Add a big pinch of salt and your lasagna noodles and cook the noodles per the box instructions stirring frequently so nothing sticks to the bottom.
Once the noodles are cooked through, get ready to serve by adding some of the cottage cheese (about 1/4 cup) to the bottom of your bowl and then  cover it with the soup – top with a touch of shredded cheddar and ENJOY!
Posted by Dacey Johnson
On April 13, 2022
0 Comments