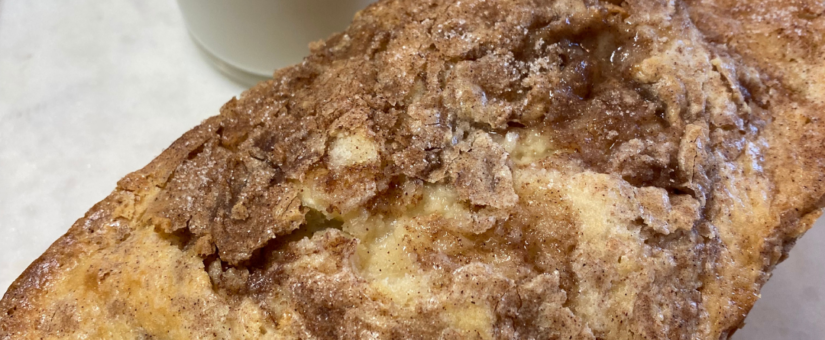 What better way to welcome in fall than with fresh baked apple bread? This super simple recipe will have you making it again and again with our cream top milk! It's so delicious you'll need a glass of milk to enjoy with it!
We made it with our whole milk, but you can use any of our farm fresh cream top milks! This apple bread recipe makes six miniature loaves, but we have variations if you want to make one large loaf. And we added some ideas if you want to make this bread recipe your own!
INGREDIENTS
Topping
⅔

 

cup

 

white granulated sugar

1

 

teaspoon

 

cinnamon
DIRECTIONS
Preheat oven to 350°F. Grease six mini loaf pans.

Combine sugar, flour, baking powder and salt. Set aside.

Beat eggs, milk and oil in a separate bowl until just combined.

Gradually add dry mixture to wet until just moist. Add diced apple and cinnamon.

Pour mixture into loaf pans, filling to the ⅔ mark to compensate for rise.

Combine cinnamon and sugar topping.

Spoon topping onto each loaf and swirl in with a knife.

Bake 40 minutes or until a toothpick comes clean.
Make it your own!
Add a Glaze – Drizzle or cover in Basic Glaze, Cream Cheese Glaze or Apple Pie Glaze to turn this quick bread into the ultimate dessert! You can even drizzle it with a little caramel sauce, we prefer Grazing Goat's Caramel!
Make it Nutty – Candied nuts, walnuts or pecans are a delicious addition to this bread recipe!
Create a Salted Butter Crumble – Simply combine cinnamon, brown sugar, flour and our salted butter until crumbly and add on top of dough just before baking.
Lighten it up –Swap half of the vegetable oil for unsweetened apple sauce and eliminate the cinnamon sugar mixture on top.
Large Loaves – Don't want six miniature loaves? You can also make this apple bread recipe in 2 – 1 pound loaf pans or cut the recipe in half for just 1 loaf pan and bake 50 minutes, or until it passes the toothpick test.
Mini Muffins – If you prefer to make them into muffins, just grease miniature muffin tins and fill each to 2/3 full and bake them for 12 minutes. This makes it great for going in school or work lunchboxes!
Nix the Apples – Not into apples? Try this simple milk bread recipe!
Posted by Elizabeth Uthoff
On August 16, 2023
0 Comments