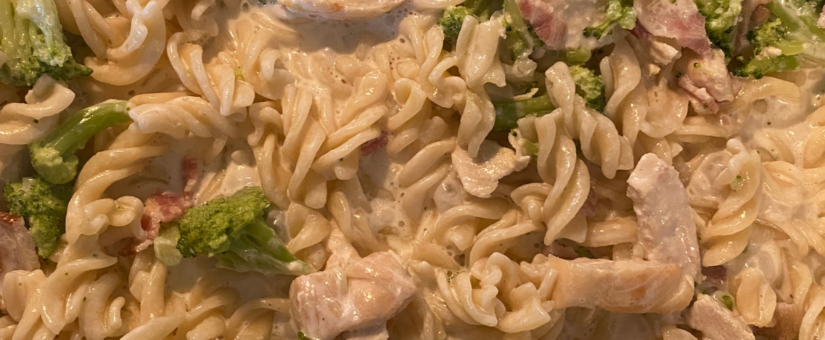 Chicken Broccoli Pasta with Bacon is an easy dinner that a whole family will love! It's a great recipe for those who want extra protein and veggies in their creamy pasta. We used all of our favorites from our creamery store, but you can add any kind of additions that you want. Add in fresh tomatoes and peppers from your garden, or use your favorite local pasta.
INGREDIENTS
1 tablespoon olive oil
1 lb chicken breast boneless and skinless
¼ teaspoon salt
¼ teaspoon pepper
3 cloves garlic; minced
⅔ cups Dan & Debbie's Whole Milk
1 cup Parmesan cheese; shredded (or for an added bonus, use our Farmhouse Cheddar)
2 cups broccoli florets, blanched
7 strips bacon
DIRECTIONS
Heat olive oil on medium-high heat in a large skillet. Season chicken breast with salt and pepper. Add chicken to the skillet.

Cook chicken breast on high heat for 2 to 4 minutes on each side, until browned. Remove the skillet from heat and keep the chicken covered. The chicken will continue cooking in its own steam until no longer pink. Remove chicken from the skillet. You can also use precooked chicken. Cut chicken into thin slices.

Add minced garlic to the same (now empty) skillet, with oils and bits left from cooking the chicken.

Add heavy cream, milk, bring to boil. Reduce to simmer. Add cheese and stir till it completely melts into a creamy sauce.

Cook pasta according to instructions. Drain.
Posted by Elizabeth Uthoff
On August 23, 2023
0 Comments