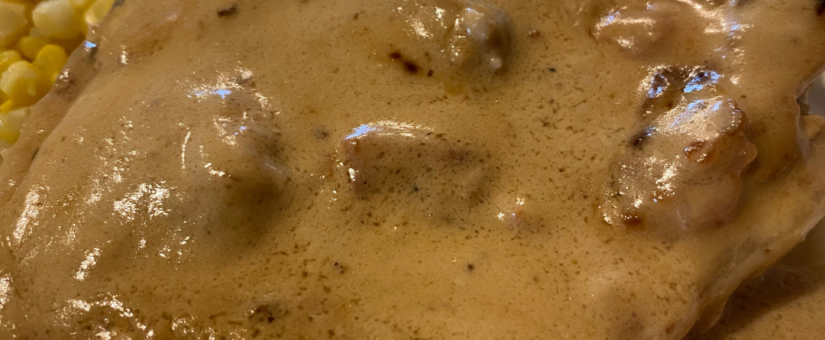 These creamy bacon pork chops will leave you wanting more! They are perfect for feeding a family and reheat well! Try them with pasta, fresh veggies, or mashed potatoes!
INGREDIENTS
Take the pork out of the fridge about 15-30 minutes prior to starting the recipe if possible.
Cut the bacon up and add it to a skillet (I use kitchen shears to make this fast). Cook over medium-high heat until crispy (about 10 minutes). Transfer the bacon to a paper towel lined plate, and leave about 2 tablespoons of the fat in the skillet.
Pat the pork chops dry with paper towel and then season them with salt & pepper.
Add the pork chops to the skillet and cook them for 3-5 minutes/side (3 minutes for thinner chops and 5 minutes for pork chops up to 1″ thick). Once the pork chops are seared, transfer them to a plate.
If the pan is looking fairly dry, add in a tablespoon of butter, but if there's still some bacon fat left in the pan, go ahead and sprinkle the flour in, stir it, and cook for about 30 seconds.
Whisk the chicken broth, lemon juice, and garlic powder in. Stir and let it cook for about a minute or until noticeably reduced.
Stir in the cream.
Add the bacon and pork back in (along with any juices left on the plate) and cook for another 3-5 minutes or until the sauce has thickened up a bit (let the sauce bubble a bit but not furiously boil) and the pork chops are fully cooked through (145F minimum). Keep in mind the pork's temperature will continue to rise, so if it's close, take it off the heat and let it rest for a few minutes before serving.
Season the sauce with extra salt & pepper if needed and top with chopped parsley if using.
Posted by Elizabeth Uthoff
On October 13, 2023
0 Comments