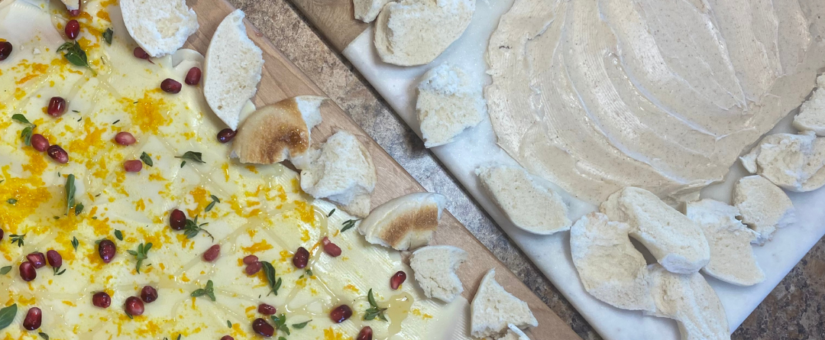 The holidays are here and you know what that means: the constant question, "What food are we bringing?" Push the easy, and delicious, button with these two holiday inspired butter boards using our handcrafted salted butter! Both of these recipes are sure to make your guests say, "How did you make that?"
The Great Pumpkin Butter Board
Place your room temperature butter in a large mixing bowl and whip in pumpkin pie spice and cinnamon sugar until combined.
Spread on a charcuterie board and enjoy with bagels or artisan bread. For a challenge, spread in the shape of a pumpkin!
Thanksgiving Butter Board
1/2

 

cup

Dan and Debbie's Salted Butter; room temperature
1/8 tsp. ground black pepper
2 tsp. orange zest
1 Tbsp. fresh thyme leaves
2 Tbsp. fresh oregano leaves
1 Tbsp. honey
1/4 cup fresh pomegranate seeds
DIRECTIONS
Onto a 6-7 inch diameter board or platter, use the back of a spoon to spread the butter to 1/8-inch thick.
Sprinkle butter with the black pepper. Add the zest, trying to avoid large clumps. Distribute the thyme and oregano evenly over top.
Measure the honey into a microwave-safe bowl and heat for 10 seconds to thin its consistency and make it easier to drizzle more finely. Drizzle honey evenly over top of the herbs. Top evenly with pomegranate seeds.
Posted by Elizabeth Uthoff
On October 27, 2023
0 Comments