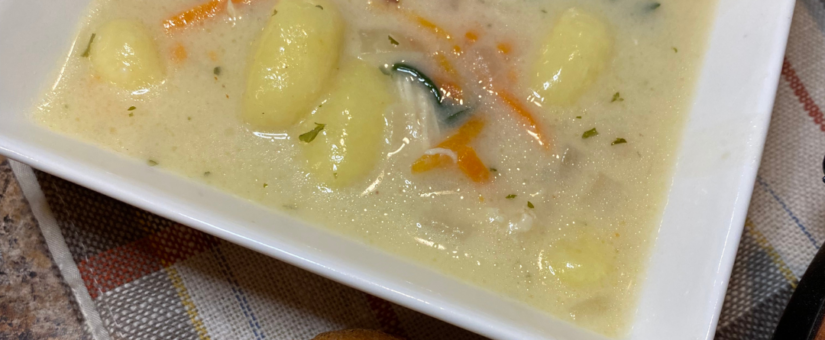 It's soup season! And what better way to warm up and feed your family than with this delicious chicken gnocchi soup? Using our salted butter and whole milk, this gnocchi is sure to be a new favorite!
1 pound boneless skinless chicken breasts cooked and shredded
1 Tbs olive oil
1/4 cup all-purpose flour
1 small onion chopped
2 garlic cloves minced
6 cups chicken broth
2 cups Dan and Debbie's Whole Milk
1 cup carrots shredded
2 tsp parsley flakes
Salt and pepper for seasoning
1 package 16 ounces mini potato gnocchi
1 cup fresh spinach chopped
DIRECTIONS
In large dutch oven or stock pot, melt butter and olive oil together.
Add your onions, carrots and garlic and cook until onions become translucent.
Whisk in your flour and let cook for a minute, slowly stir in your chicken broth and simmer until it starts to thicken up.
Meanwhile in pan cook your gnocchi according to package directions, drain and set aside.
Add your milk to your veggie and chicken broth mix and bring to a boil, stir in your seasonings.
Once at a boil reduce heat and add your gnocchi, spinach and chicken simmering until heated through and thickened.
Posted by Elizabeth Uthoff
On November 3, 2023
0 Comments