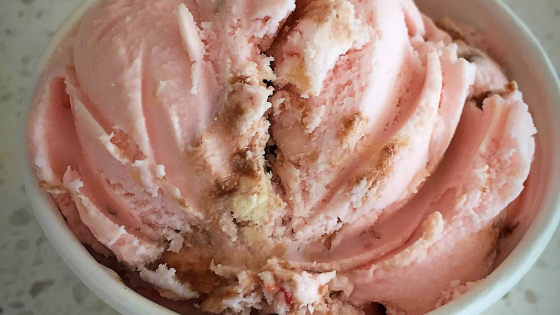 Twice a week, and sometimes even three times, you can find Debbie and Joni creating handcrafted ice cream at the Creamery. They begin early in the morning and are still working in the late afternoon. Their creations include cookie dough, dutch chocolate, salted caramel, cookies and creme, and numerous limited edition flavors. 
After an early morning of milking, Debbie heads over to the creamery to make ice cream for 8 hours. With the help of Joni, they create up to six different flavors during that time. They choose which flavors to create in a day based on their contents. For example, they may begin with vanilla bean and then move to birthday cake or salted caramel- both of which use a vanilla base. By adding cream, milk, and sugar into our milking machine, in eight minutes they have created delicious handcrafted ice cream. To keep up with the demand from the creamery, or deliveries, you can find Debbie and Joni working to create 400-500 gallons of ice cream per week.
Our ice cream machine is the smallest machine in our make room, but it undoubtedly works the hardest. It can create six gallons of ice cream in one batch, which must be churned for eight minutes until it is ready to be scooped into containers. The total batch time is longer, however, normally taking 20-30 minutes- since we must hand scoop the ice cream into our half gallon, pint, or mini ice cream containers. Depending on the flavor that they are creating, Debbie and Joni may add flavoring in the machine with the other ice cream ingredients or once the ice cream is being scooped into their containers.
Debbie dreams up new idea's for ice cream flavors often. We stock 12 signature flavors, but Debbie and Joni have fun creating new, limited edition flavors that cycle throughout the year. The limited edition flavors in our ice cream case now are Black Licorice, Butter Brickle, Banana Split, American Ice, Blueberry, and Cherry Almond. We encourage customers to call our creamery store if they are looking for a specific flavor.
You can find our ice cream in more locations than just our creamery store! We have retailer partners who sell our ice cream pre-packaged, like Hyvee or Fareway, and others who sell by the scoop, like Moo Moo's Ice Cream Truck or Maddi B's. Check out our Where to Buy page on our website to see which groceries sell our ice cream!
This July, stop by our creamery and celebrate national ice cream month, and remember the hard work it takes to craft the delicious sweet treat all year long! 
Watch our handcrafted ice cream process!
Posted by Elizabeth Uthoff
On July 23, 2019
0 Comments