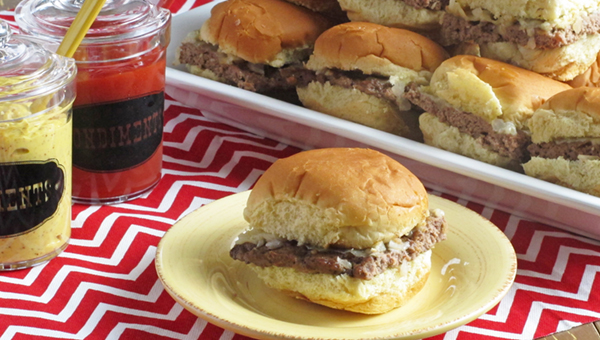 Ingredients
1.25 lb lean ground beef

1 envelope dry onion soup mix

1/2 cup  Dan and Debbie's milk

3/4 cup diced onion

12 Hawaiian sandwich rolls sliced in half

Dan and Debbie's aged cheddar cheese sliced (farmhouse cheddar, jalapeno cheddar, caraway cheddar, peppercorn cheddar)

 Condiments as preferred
Preheat the oven to 350 degrees F and spray a 10×15 sheet pan with nonstick cooking spray.

In a large bowl, mix together the ground beef, onion soup mix, peanut butter and milk.

Put the meat mixture on the baking sheet and spread evenly into a thin layer. Sprinkle with the diced onions.

Place the pan in the oven and bake for about 15 minutes or until meat is cooked through and measures 165 degrees F. Take the pan out of the oven and carefully drain off any accumulated juices. 

Top the meat with the cheese slices. Put back in the oven until the cheese melts, about 3 to 5 minutes.

Remove from the oven and then arrange the roll tops on top of the meat in 4 rows of 3 across so that the meat is covered by the rolls. Put back in the oven for about 3 minutes to warm the roll tops.

Remove the burgers from the oven and cut the burgers into squares around the roll tops.

Place each burger on top of the roll bottom. Serve with preferred condiments. 
Posted by Josie Rozum
On January 30, 2020
0 Comments