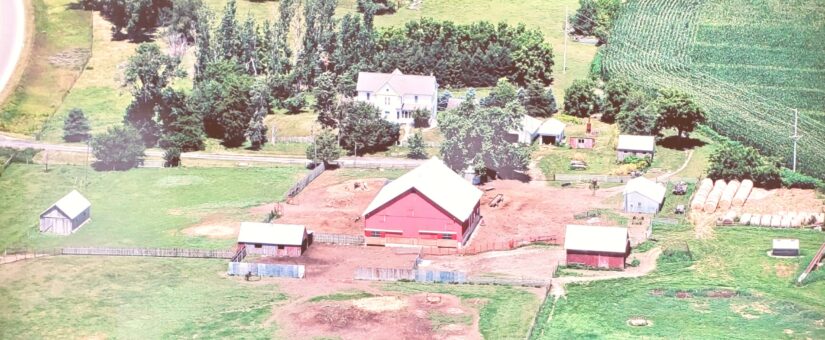 The historical

Fuhrmeister

Farm on the south side of Ely, Iowa becomes a permanent part of our family's journey to sustainability on our dairy farm and creamery.
People come in and out of our lives everyday. And every now and then, the people we meet impact our lives in unexpected ways. Sometimes that impact occurs at the moment we meet them; other times it happens long after our paths cross; and occasionally you don't even realize the impact until that someone is gone.
Our farming story is one where numerous people have impacted our lives. Two of those people are the late Bob and Caroline (Fuhrmeister) Touchberry.
Like in any farming community, good farmland to rent is really hard to find. In the mid 1990's, rumors began circulating that Bob and Caroline Touchberry would soon be looking for someone to farm their land for the next growing season. We had just purchased our own small farm in rural Ely just a few miles down the road from the Touchberry farm and were going to make a go at farming, but just didn't have much to work with at the time. We may have only had a small amount of farming experience, but we came with a ton of passion, drive and determination to make farming our way of life. Only a few days after hearing about the Touchberry land [possibly] being available to rent, while driving through Ely, we spotted Bob out in the yard and pulled in to introduce ourselves. We asked if he would ever consider allowing us to farm his land.
Bob in his calm and collected voice said, "Sure. I think that'd be fine." Even as we reminisce about the story today, we are still in a bit of disbelief at how quick Bob was to respond, yes. Dad recalls standing there that day in a bit of shock. We certainly weren't expecting that type of response in that moment, but it was so welcomed and gave us the path to continue with our farming dreams. Not only did Bob allow us to farm it, he allowed us to farm it on shares. Bob and Caroline gave our family the 'key' to become true stewards of their land all those years ago. They supported every farming decision we made, allowed us to make mistakes, learn from them and grow. The decision to pull into their driveway that day was one of the best decisions we made and continues to be that way every single day.
So, along with our small farm in rural Ely, we began farming the Touchberry property in 1994. 
The story doesn't end there. After several years, Caroline shared a Hoards Dairy Magazine with us. Caroline loved to read, and in the magazine she shared we'd find her handwritten notes in the margins all the way around the pages. Dad said when he got the magazine he read so much more than the page that Caroline flagged for him. He read the entire magazine from start to finish — and then he read it again, and again. After he took it back he asked Bob if he could trade it in for another Hoard's Dairy Magazine. Bob and Caroline had a library of these magazines and were happy to share them. Dad said he had never seen a magazine like that and he  spent nearly every night reading article after article. It wasn't long after he knew in his heart dairy farming was what he wanted to do. 
Fast forward, nearly twenty five years after the day we pulled into the driveway to talk to Bob, the Touchberry Farm continues to remain a huge part of our story. Even since the passing of Bob and Caroline, their children have allowed us to continue to farm the property as we had when they were both here. The land used at the Touchberry farm has been instrumental in our pursuit to become a truly sustainable family farm. 
The Touchberry Farm is a special place for many different reasons but to the Touchberry and Fuhrmeister family's it holds generations and generations of memories. These are memories that our family cannot fully comprehend because we are still 'new' in comparison. But, beginning today, April 15, 2021 the Touchberry family will turn over the actual keys to the property making it ours.
It has been an absolute honor to know this family. The legacy of Bob and Caroline, Lee (Cindy), Rob (Jenny), Pam, and Alan (Marlene) Touchberry will live on, and we will tell their story often through the work that we do on their farm. 
In honor of their unwavering support, the willingness to give us a shot all those years ago and for trusting us to continue to do great things with their family farm for many many years to come; we are beyond excited to announce Touchberry Farm + Garden. 
Get ready, because something really beautiful is coming to Ely, Iowa.
Caroline Touchberry with Troy, Riley and Josie (Rozum) Takes at the Touchberry Farm in 1997.
Dan and Debbie Takes Pictured with Bob Touchberry in 1995.
A young Josie Rozum, Tori Berg, and Riley Takes playing in the Touchberry kitchen circa 1997.
Dustin Takes loading bales on the elevator at the Touchberry Farm in 1997.
"Red & White heifer – the 4th Heifer to calve, Debbie Delivered it. An all black calf the back legs straightened after several days."
Written on the back by Caroline Touchberry in 1996.
Riley and Tyler Takes playing on a dirt pile in 1997.
Posted by Dacey Johnson
On April 15, 2021
0 Comments