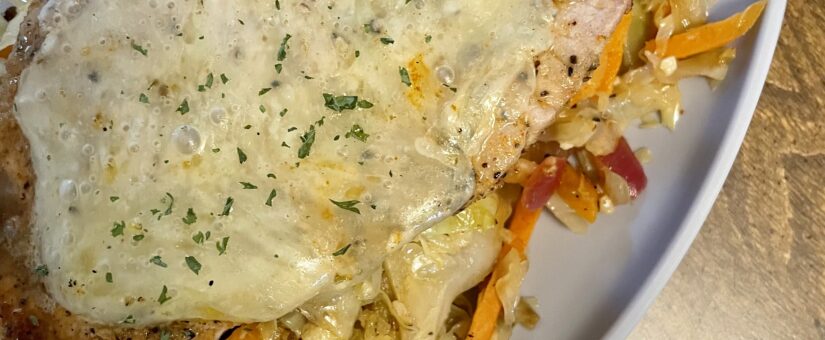 Cheesy Lemon Pepper Pork Chops
I think the seasoning in my cupboard that gets the most use is probably my lemon pepper seasoning. It just adds the best punch of flavor and is such an easy way to spice up any meal. Pork and cabbage are two of my favorite ways to use it!
Ingredients:
Two Edgewood Locker Pork Chops (sold in our creamery)
Lemon Pepper Seasoning
Two Lemons
2 t Minced Garlic
Either One Head of Cabbage or a Bag of Coleslaw Mix.
Salt and Pepper
Directions:
Tenderize your pork chops and then coat with lemon pepper seasoning on each side. I love the lemon taste so I first squeeze half a lemon on the pork. Throw the pork on the grill.
While the pork is on the grill heat up your butter and garlic over medium heat in a large pan. After about two minutes add in the cabbage and lemon pepper seasoning to taste. Stir together.
Once the mixture has slightly browned squeeze the juice from the other half of the lemon into the cabbage and stir. Remove from heat.
Once the pork has finished cooking remove it from the grill and cover it with Peppercorn Cheddar.
Spoon the cabbage onto your plate and then place a pork chop on top. If you want more lemon flavor squeeze a lemon wedge on top.  ENJOY!
Posted by Dacey Johnson
On July 30, 2021
0 Comments