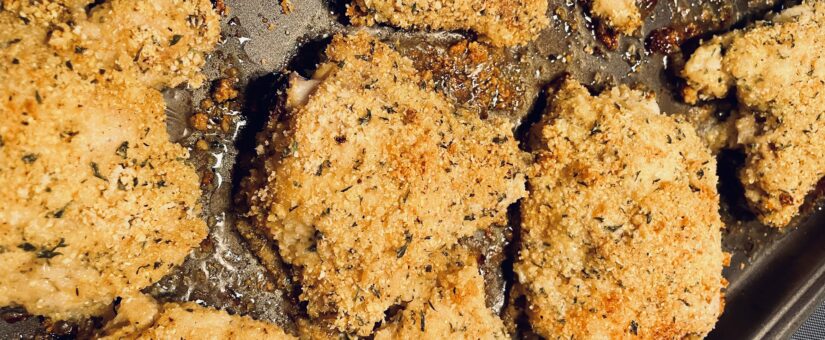 Baked Cornmeal Chicken
Crispy, flavorful, delish chicken thighs without a layer of grease… does it get better?
Ingredients:
1.5 Pounds Chicken Thighs (skin removed)
1/2 cup Bread Crumbs
4 t Dried Parsley
3/4 t Garlic Powder
1/2 t Salt
1/2 t Onion Powder
1/2 t Dried Thyme
1/2 t Pepper
1 cup Buttermilk (Pro Tip: At Home Buttermilk = 1T White Vinegar, topped with Milk until 1 Cup)
Directions:
Preheat your oven to 375 and lightly grease a 13×9 baking pan.
In a large bowl combine all of your dry ingredients.
In a separate smaller bowl, I like to use a pie pan with edges add your buttermilk.
Dip your chicken thighs one at a time into the buttermilk making sure that buttermilk is coated everywhere.
Place your chicken in your dry mixture and coat every inch of your chicken and place on the baking sheet. Repeat until all chicken is coated.
Pop the chicken into the oven and bake. After 10 minutes has passed pull your chicken out and drizzle the melted butter over the top.
Return your chicken to the oven and bake for an additional 30-40 minutes until the juices run clear. Serve hot and ENJOY!
Posted by Dacey Johnson
On November 12, 2021
0 Comments