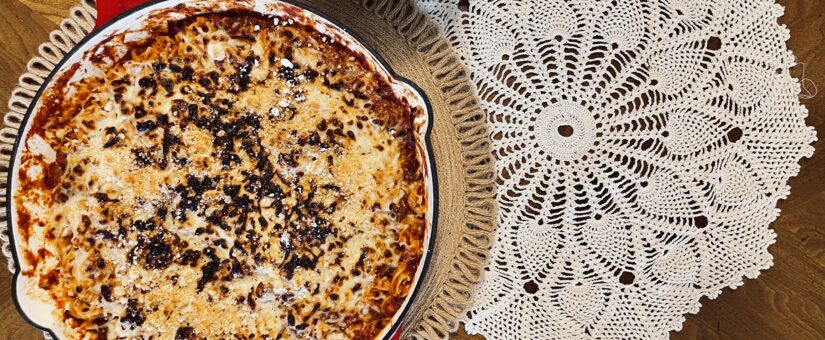 Pasta Bake
Let's be honest, for a quick and easy pasta night, all you really need is good sauce, good pasta, and of course good cheese. For a slightly elevated pasta night, here's a recipe that still keeps it quick and simple but adds a little jazz!
Ingredients:
1/2 a Yellow Onion Diced
Minced Garlic
Salt + Pepper
Italian Seasoning
1T Butter (or more if you desire, we won't judge)
Splash of broth of your choice
Sprinkle of Red Pepper Flakes
1 cup Shredded Mozzarella
Directions:
In a medium-large pan (I used a cast iron so I can just pop it in the oven later when I'm ready) add a drizzle of oil and add your onion and minced garlic and cook until fragrant.
Add the ground beef, salt & pepper, and seasonings to the mixture and cook until browned all the way through.
Bring a pot of heavily salted water to a boil and cook the pasta as directed!
To the same pot, add your jar of pasta sauce and stir. I then add a splash of broth or water if you don't have broth to the jar and give it a shake to get all the sauce out! Bring the sauce to a simmer.
While the noodles and sauce cook – I blend my cottage cheese to give the sauce a very creamy texture. This step is optional but I HIGHLY recommended it! Then carefully add it to the sauce.
Once the noodles are cooked drain them and add them to your pan with your sauce. (If the pan you've cooked the sauce in is not oven safe just grab a 9×13 grease it up and combine everything in there). Cover the pan with both kinds of cheese and pop in the oven on HIGH BROIL until the cheeses start to bubble and brown. Keep a close eye so it doesn't begin to burn.
Serve and ENJOY!
Posted by Dacey Johnson
On May 5, 2022
0 Comments