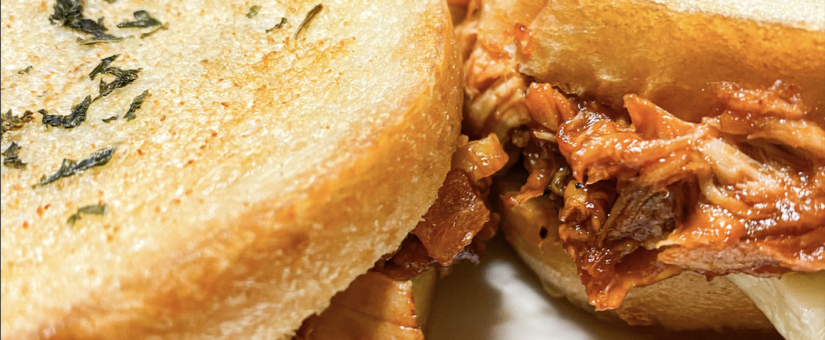 Try this easy week night dinner for your family!
INGREDIENTS
BBQ Chicken:
2 tablespoons olive oil
1 small red onion, thinly sliced
3 cloves garlic, minced
2 1⁄2 cups shredded roast chicken
1⁄2 teaspoon paprika
1 cup BBQ sauce
1 block of Dan and Debbie's Aged Cheddar, sliced
Garlic Butter Bread:
¼ cup Dan and Debbie's Salted Butter
2 cloves garlic, minced
2 teaspoons parsley, minced
12 slices sturdy white bread
DIRECTIONS
Heat oil in a large skillet over medium heat. Cook onions until soft, about 2 minutes. Add garlic and cook until fragrant, about 30 seconds. Add the shredded chicken, smoked paprika, and Worcestershire sauce and bbq sauce. Stir to combine and cook until everything is heated through, about 2-3 minutes.
Add butter, garlic and minced parsley in a medium bowl. Microwave until melted
Lay 12 slices of bread on work surface. Spread melted butter mixture over each piece.
Turn each piece over and 6 of the bread slices with 6 of the cheese slices and the bbq chicken mixture, dividing evenly. Add the remaining cheese over the top of the chicken and top with the remaining 6 slices of bread (both the bottom and the top should have the buttered side exposed).
Posted by Elizabeth Uthoff
On May 30, 2023
0 Comments