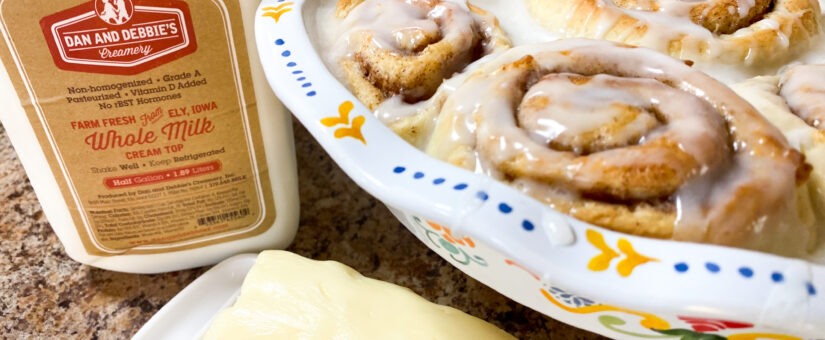 Start your morning with this delightfully sweet breakfast treat: homemade cinnamon rolls using our salted butter!
INGREDIENTS
Rolls:
⅔ cup Dan and Debbie's Whole Milk Warmed (Heated to 105°F)
1 package Active Dry Yeast (About 0.25 oz)
2 tablespoons Sugar
¼ cup Dan and Debbie's Salted Butter, Softened
1 Egg Yolk
½ teaspoon Vanilla Extract
2 cups Flour
For Filling:
¼ cup Dan and Debbie's Salted Butter, Softened
¼ cup Sugar
1 tablespoon Flour
1 tablespoon Ground Cinnamon
For Glaze
¾

 

cup

 

Powdered Sugar 

1

 

tablespoon

 Dan and Debbie's Whole Milk
DIRECTIONS
Heat milk slowly to about 105℉ in a small saucepan or in the microwave.

Once warm, put it in a large bowl, add the yeast and top it off with 1 tablespoon of granulated sugar. Stir it gently then let it sit for 5-10 minutes, or until it's foamy.

Add softened butter, 1 tablespoon of sugar, the egg yolk, and vanilla extract to the yeast mixture. Mix until well combined.

Gradually add the flour and continue mixing until a smooth, elastic dough forms, which should take about 2 to 4 minutes.

Spray a large bowl with vegetable spray (or a light coating of oil) and form your dough into a ball. Place it in the bowl, cover with plastic wrap, and place the dough somewhere warm to rise. Allow the dough to rise for about 45 minutes, or until it has doubled in size.

Make filling by mixing together the softened butter, sugar, flour and cinnamon in a separate bowl. Set aside for later.

Once the dough has risen, form your hand into a fist and gently push it into the center of the dough to remove air pockets that formed while the dough was rising.

Turn the dough out onto a lightly floured surface. Use your fingers to shape the dough into a rectangle, then use a rolling pin to enlarge the shape. As you roll the dough, just roll in one direction at a time. Don't go back and forth with the rolling pin. Roll from front to back of the rectangle and then from left to right. There's no need to apply too much pressure here since this is a soft dough.

As your rectangle begins to form, start in the middle of the dough and roll out towards each corner, gently forming a more defined shape. Even it out again by going front to back and left to right until you have a 12 in. x10 in. rectangle.

Spread the cinnamon filling mixture evenly over the dough.

Starting from the long end of the rectangle, begin rolling up your dough, like you would a jelly roll. Make sure the cylinder is tight so the rolls hold their shape.

Once you're done rolling, pinch the seam to seal all the good stuff inside and place it seam side down on a cutting board. Using a sharp knife, trim off the ends and cut into 8 equally sized pieces.

Place the rolls into the prepared baking pan, spacing them evenly apart. Cover the rolls again with plastic wrap and let them rise in a warm spot for 25 to 30 minutes, or until they double in size.

Preheat the oven to 350°F. Remove the plastic wrap and bake in preheated oven for 25 to 29 minutes, or until golden brown.

Remove the baked rolls from the oven and make the icing glaze.
Icing Glaze
Stir together 3/4 cup confectioners' sugar and 1 tablespoon milk in a small bowl. Carefully drizzle the cinnamon roll icing glaze over the rolls and enjoy!
Posted by Elizabeth Uthoff
On May 11, 2023
0 Comments