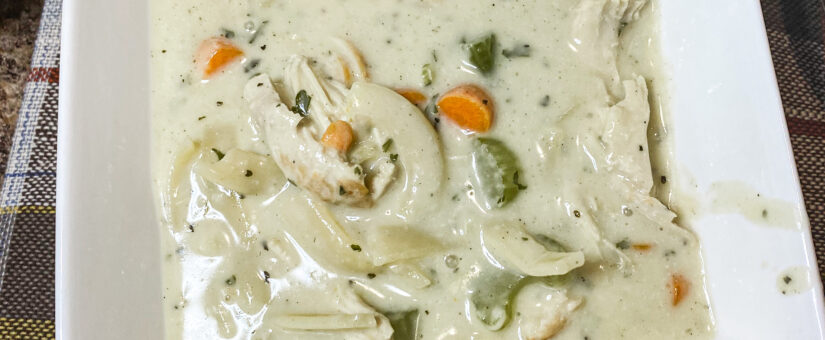 There are recipes that just make you feel good, and bring warmth to your home. This is it. This homestyle creamy chicken noodle soup is an instant family favorite and a perfect way to feed a big group or family easily. Create it with local goods like our heavy whipping cream, Kalona egg noodles, our salted butter, Echo Del whole chicken, and Early Morning Harvest all-purpose flour.
INGREDIENTS
3 tablespoons olive oil
2 tablespoons

Dan and Debbie's Salted Butter

1 pound boneless skinless chicken thighs OR 2 ½ cups Echo Del cooked chicken
salt and pepper
1 1/2 cups carrots sliced
1 1/2 cups celery sliced
1 onion, diced
4-6 cloves garlic, minced
1/3 cup

all-purpose flour

8 cups low sodium chicken broth
1 tablespoon granulated chicken bouillon
1 tablespoon dried parsley
1 tsp dried oregano
1 tsp dried basil
1/2 tsp dried thyme
1/2 tsp dried sage
1/2 tsp ground cumin
2 bay leaves
2 tablespoons cornstarch
2 cups wide egg noodles, uncooked
1/3 cup freshly grated parmesan cheese
DIRECTIONS
Season chicken with ½ teaspoon salt and ½ teaspoon pepper. Heat 2 tablespoons oil over medium-high heat in a large Dutch oven/soup pot. Once hot, add the chicken and sear until golden, about 2 minutes per side. Remove chicken to a plate but leave the drippings.
Melt 2 tablespoons butter with 1 tablespoon olive oil over medium heat in the drippings. Once melted, increase heat to medium-high and add onions, carrots and celery; sauté for 4 minutes scaping up the golden bits on the bottom of the pot.
Add garlic and sauté for 30 seconds. Sprinkle in the flour then cook, stirring constantly for 2 minutes (it will be thick); don't let flour stick to the bottom of the pot or it will burn later. You can add additional oil if needed.
Add chicken back to the pot along with chicken broth, bouillon, all seasonings, ½ teaspoon salt, and bay leaves. Cover the soup and bring to a simmer over high heat, then reduce and simmer, covered, for 12-15 minutes or until chicken is tender enough to shred, stirring occasionally so the bottom doesn't burn and replacing the lid.
Remove tender chicken to a cutting board and shred when cool enough to handle. Meanwhile, whisk cornstarch with half and half until smooth in a small bowl or liquid measuring cup then stir into the pot. Add the noodles and bring to a boil; simmer until noodles are al dente, approximately 5 minutes (don't overcook noodles!).
Reduce heat to low and stir in Parmesan until smooth followed by shredded chicken. Taste and season with additional salt and pepper if desired. Stir in additional broth or half and half if desired for a less "chunky" soup.
TIPS & TRICKS
A shortcut way: Add about 2 ½ cups shredded rotisserie chicken to the soup at the end when the recipe calls for adding shredded chicken back to the soup. Make sure to season your rotisserie chicken to preferred taste.
Substitute in chicken breasts: You can use chicken breasts if that is what you prefer but note they are leaner than chicken thighs, so they will not be as juicy or as flavorful, especially if overcooked.  Slice your breasts in half if they are extra-large, otherwise, the simmer time will be much longer and the veggies can break down too much.
Change up the veggies:  Green beans, corn, peas, bell peppers, mushrooms, broccoli, cauliflower, butternut squash, canned tomatoes, or fresh spinach or kale would be tasty. Add green beans, bell peppers and cauliflower the last 10 minutes of cooking so they don't overcook. Add leafy greens at the end of cooking to wilt and frozen petite peas at the end just to warm through.
Make ahead and store for later: This is a great recipe to prep ahead of time by slicing up all the veggies beforehand and prepping the chicken. You can also store the soup for later easily by freezing it in freezer containers or refrigerating it for up to 4 days – it's better a day later!
Posted by Elizabeth Uthoff
On September 25, 2023
0 Comments