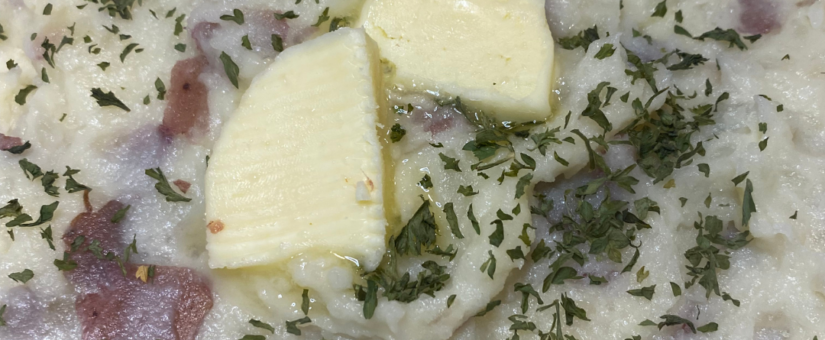 Looking for the next best side dish at your family gathering? Or maybe you just want to change up your usual mashed potatoes recipe. This is the one for you: Roasted Garlic Mashed Potatoes. These potatoes are so creamy and so delicious that even your pickiest eater will ask for seconds!
Roast the garlic – cut the top 1/4 inch off of the garlic head. Wrap the garlic head in foil and drizzle olive oil over the garlic. close the foil around the garlic and roast in oven at 375 degrees F for about an hour. The garlic will be very soft and golden when done. When ready to use, you can easily squeeze the garlic cloves out of the skin.
Place potatoes in a large pot or dutch oven and cover with cold water. Add 1 tsp salt and bring to a boil. Simmer for 15 minutes or until fork tender.
Drain and return potatoes to pot, along with the roasted garlic cloves.
Gently warm the half and half and butter until butter is melted (this can be done on the stovetop or microwave). Add to the pot with the potatoes and garlic, along with salt and pepper. Mash until milk and butter are incorporated and potatoes are a creamy consistency with some lumps.
Garnish with fresh herbs and more butter, serve.
Posted by Elizabeth Uthoff
On November 15, 2023
0 Comments